Book Margie


.

When you want a personal development speaker to inspire exponential success in any audience, group or organization…


.

…book Margie Aliprandi.
You'll know you've made the right decision when your team members come away saying "I can do it!" …and then they do.
.
General audiences find Margie's keynote and training presentations more than engaging, more than inspiring, even more than motivational.
Margie's Speaker One Sheet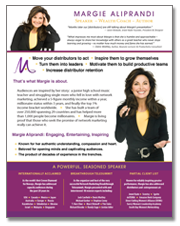 1-2 hour keynotes
4-8 hour workshops
2 and 3 day trainings
"Having shared the stage with Margie, I've seen her hold an audience enrapt. She has the steps for rank advancement down to a science, & her in-depth understanding of success principles has inspired thousands to persist in significantly growing themselves, their teams & their incomes." ~Jack Canfield Co-Author, Chicken Soup for the Soul and The Success Principles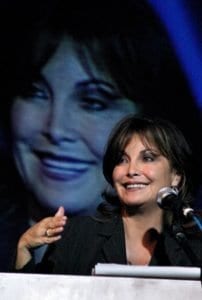 They emerge with a drive to think limitlessly. They bring forth a fresh new optimism, a sense of possibility, a decision to expand. They gain powerful ideas and practical strategies that they can act upon right now. And they get the tools for sustained action and sustained results. They come away inspired to reach for more, achieve peak performance, settlin for nothing less than excellence in business and life.
Network marketing audiences learn to create a recruiting culture of daily prospecting, and the self-image so needed for success. Participants discover that they're not "distributors;" they're gift-givers. Attitudes shift. Belief patterns change. Self esteem and self confidence soar. They see themselves offering the gift that's everyone's birthright: the potential of financial freedom.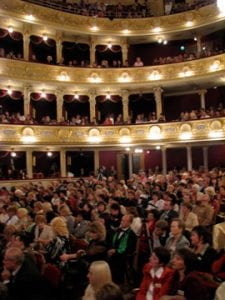 Margie reinforces their belief in their company, the profession, themselves and their ability to transform lives. They come away seeing bigger things for their futures, and knowing they've chosen the only vehicle for making their dreams come true.
Margie's inspiring keynote presentations and empowering custom workshops help people change the way they think so they can get to where they want to be!
How To Get Absolutely Anything You Want
The Networker's 90-Day Breakthrough Challenge
When you want lasting results from a personal development speaker/wealth coach, book Margie Aliprandi.